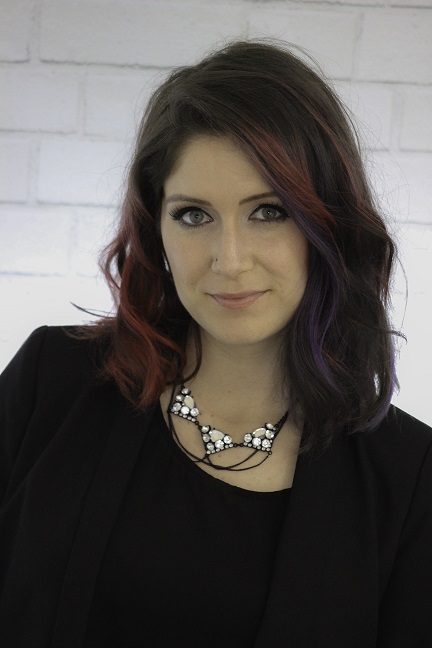 Angela Santori Merritt
It started with my love of Halloween as a child; my dad would let us decorate the house however we wanted and take us trick-or-treating with the same wizard costume every year. I grew up watching Star Trek, Beetlejuice, Hocus Pocus, Nightmare Before Xmas and many Marliyn Monroe movies. Every year I made the most elaborate costumes just so I could be someone else for a day, then I thought to myself, "why just one day, why not everyday?" I have always loved playing dress-up, and still do to this day, and that is how Special Effects Makeup came along and I haunted my way down an ever winding path of curiosity. I now follow all my curiosities and await the new and exciting challenges they bring.
I currently works for 2 theaters here in LA, Loft Ensemble Theater Company and Sacred Fools Theater Company, with 2 years and 9 shows under my belt. Some of my previous experience includes a handful of short films, a returning role as a creature makeup artist for 17th Door. My skills include: Theater, Prosthetic, Film and Beauty Makeup, as well as Airbrush and Body Painting.
CREDENTIALS
"Cat Lady" Loft Ensemble Theater - June 2017- August 2017 - Makeup Designer
"Sirens of Titan" Sacred Fools Theater Company – March 2017-April 2017 – Makeup Consultant
"Long Joan Silver" The Loft Ensemble Theater – Feb 2017-March2017 – Makeup and Hair Designer
"Ziggy's Will" Short Film – Jan 2017 – FX and Beauty Makeup Artist
"Embers" Short Film – Nov 2016 – FX Makeup Artist
"Dracula: Blood Before Dawn" The Loft Ensemble Theater – Sept 2016 – Nov 201 2016 – Makeup and Hair Designer
17th Door Haunt Experience – Sept 2016-Oct2016 – Makeup Artist
"King Lear" The Loft Ensemble Theater – July 2016 – Aug 2016 – Makeup and Hair Designer
"Gorlesque" Haunted House – March 2016 – Makeup Artist
"The Aeroplane or How Low: An Autobiography (Sort Of) - The Loft Ensemble Theater - Jan2016-Feb2016 - Design Lead and Head Makeup Artist
"Roommate From Hell" Short Film - Nov 2015 - FX Makeup Artist
17th Door Haunted House Attraction, Tustin Market Place - October 2015 - Makeup Artist
"Doug" Short Film - September 2015 - Makeup Artist
"Hammer of the Witches" The Loft Ensemble Theater – Sept 2015 - Oct2015 – Makeup/Concept Artist and Headpiece Designer
"WWE Stone Cold Steve Austin Parody You Tube Video" - Local Business Comedy - July 2015 - Character Makeup Artist
"One Flew Over the Cuckoo's Nest" The Loft Ensemble Theater –June 2015 – Makeup Artist and Instructor
"Ron" Short Film – May 2015 – Lead Makeup Artist
"She Kills Monsters" The Loft Ensemble Theater - March 2015 – April 2015 – Makeup Artist
"Midsummer Night's Dream" The Loft Ensemble Theater – Jan 2015 – March2015 – Design Lead and Makeup Artist
"Will You Save Them" The Loft Ensemble Theater – Sept 2014 – Oct 2014 – Built Stage Props/Gags/ Prosthetic andMakeup Artist*
* "Angela (Merritt) Santori's stellar makeup and special effects design offers some very freaky visuals" written by Tom Chaits, published on Stage and Cinema Review.com
Terror Trucks, Inc. Scare LA Event - Aug 2014 – Makeup Artist
EDUCATION
SOUTH BAY LA MAKEUP INSTITUTE - Certification Program Modules
o Professional Media Makeup Artistry - Certification
o Advanced Airbrush Makeup Artisty - Certification
§ Instructor Tanya Deemer
MAKEUP DESIGNORY - Day of the Dead Body Paint Workshop - Oct 2015 Instructor Shanna Cistulli
HOLLYWOOD MAKEUP ACADEMY
o Zombie Makeup- Oct 2015 – Instructor Gage Munster
o Prosthetic Application – March 2015 – Instructor Drew Talbot
o Injury, Trauma Wounds Course – Jan 2015 – Instructor Drew Talbot
o Silicone Prop, Part, and Life Casting – Jan 2015 – Instructor George Troester
§ Courses completed with Certification
NAIMIES' BEAUTY CENTER WORKSHOP | DEC 2014
o Body Paint Stenciling Basics, Tips. Trick and Techniques
o Instructor: Michael Rosner "Eye Level Studio" for European Body Art
SCARE L.A. WORKSHOPS | AUG 2014
o Nightmare Clown Character
o Creating Wounds
§ Instructor: Steph Koza from Placebo FX
BACHELOR OF ARTS DEGREE | 2007 | SAN FRANCISCO UNIVERISTY
o Major: Speech and Communication with a concentration in Organizational Communication
o Minor: Marketing
o Related coursework: Sales, Rhetoric, Project Management
ASSOCIATE OF ARTS DEGREE | 2005 | MOORPARK COMMUNITY COLLEGE
o Major: Business Marketing
o Related coursework: Marketing, Financial Accounting, Speech